Circuit A
The Bay of Pampelonne – 5km –

 1h30 –


Tropézina, route de Tahiti.
You can walk right along the edge of the sea, past the different bathing establishments, both public and private, which succeed each other along the most extensive beach on the peninsula : Pampelonne (scene of the Allied landings on 15th August 1944).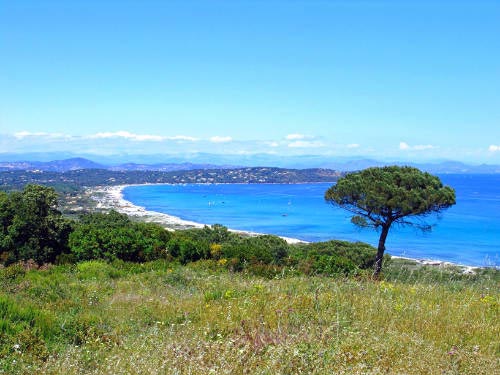 Circuit B
The Inlet of Bonne Terrasse – 0,5km –

 15mn –


Municipal car-park on the Route de Bonne Terrasse, after the holiday village of Léo Lagrange.
At the far south of Pampelonne, take the footpath along the base of the rocky coastline. After about 100m , don't miss the well of 'Lou Pous' with its resurgence of fresh water, before arriving at the beach of Bonne Terrasse and its fishermens' cottages. Possibility of returning via the footpath after the restaurant 'Chez Camille', or of going further along on 'Circuit C' to Cap Camarat.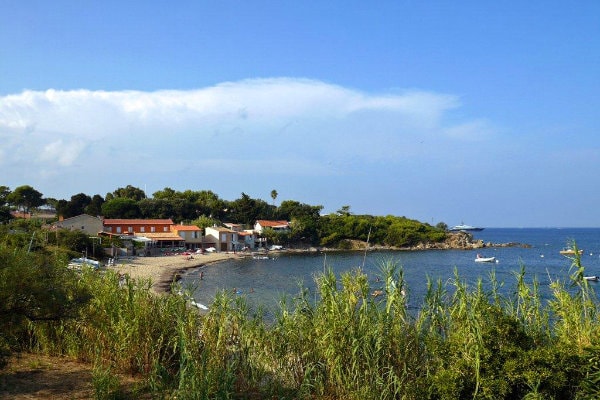 Circuit C
Bonne Terrasse – Cap Camarat 2,5km –

 30mn

idem circuit B et

As Circuit B + extra parking (15 places) along the road to the restaurant Chez Camille'.
Take 'Circuit B' and follow on, or join it from the footpath which leads to the beach of Bonne Terrasse. Go along the sea-front to the barrier, then :
The road on the right will lead you gently (

)up to the Lighthouse,
which you will reach after about 500m.
The steep road on the left over the sea, leads up to the 'Rocher des Portes' or 'Bird Island' (30mn –

).
Possibility of climbing up to the Lighthouse (15mins up a path on the right).The Lighthouse dates from 1831, and was the second most important in France for its height and luminosity : 130m above sealevel. Can not be visited.
Signal station of Camarat Open military site closed to the public except Heritage Days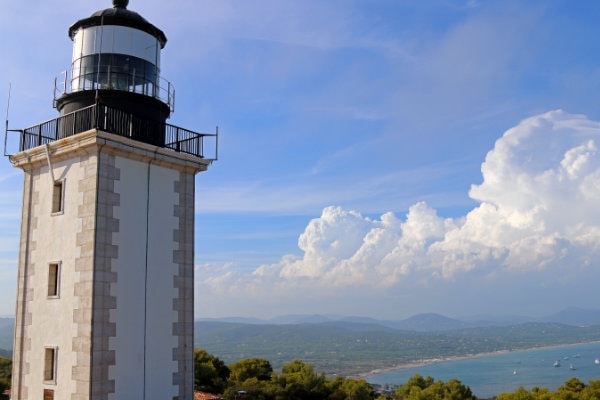 Circuit D
Cap Camarat – Plage de l'Escalet 4,5km –

 2h20 –


at the bottom of the Camarat lighthouse
This itinerary starts with a succession of ups and downs along the rockface, before coming to sea-level along to Escalet Beach and its little private harbour. Discover the outcrop of the Napoleonic Battery, the village of Merlier (35 houses built in the 1960's by the achitects known as MONTROUGE, combining traditional and modern features) ; the Château Volterra (a private residence from the 1900's) and the Escudier Rock (commemorating the submarine missions and escape of the banner of the 2nd regiment of Dragons during the Second World War).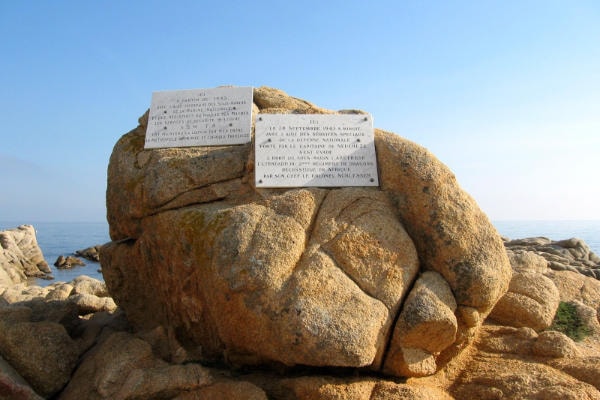 Circuit E
Plage de l'Escalet – Isthme du Cap Taillat 2km –

 35mn
2 indicators : yellow (

) and blue (

)


next to the tennis courts.
Go down to the beach and take the path which goes down some steps to the right, (after the villa).


Go up the Boulevard Praya, then to the left
Direct access to the footpath.
Undoubtedly the most beautiful stretch of the coastal walkway, with its backdrop of the isthmus of Taillat, which can be reached after a succession of rocky inlets.
From the summit of Cape Taillat (a remarkable site protected by the Coastal Conservation bureau), you will marvel at the different colours of the sea-bed, which
change with every breath of wind. Behind the Customs' House on the right, (10mn –

) the path leads to the dolmen of the Briande Bay (a burial ground dating from 2000 BC).
Possibility of continuing along to Gigaro Beach ( 6km – 2h –

)